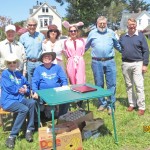 This week (Thursday, April 24):  Larry Tunzi, Fire Chief of the Comptche Volunteer Fire Department. Larry is a good friend to Rotary, This should be a great presentation.
Photos by Guenter / remember to click on photos to see larger, click again to make them small.
By all accounts, our Rotary Park Easter Egg hunt, an opportunity to show off the park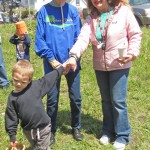 to the community, was a huge success. So many thanks are in order: Jerry Karabensh (for the idea and taking the lead in making it happen); Donna Schuler (all around support) and daughter Erin (for playing Easter Bunny); John Porter, John Cottle and Wilma Tucker (for helping with registration, set up and more); Guenter (photos); Jennifer Bosma (eggs … for everything). Thanks also goes out to Pam Hudson, Harold Hauck and Jeffry Stubbs who also showed up and helped make it a huge success. Did we forget anyone? It seems just about everyone purchased or dyed eggs as well. Continue to see more photos.