By Heather Paulsen, Editor of the View / Photos by Guenter Riegler
Next week's program: John Turnbull,with an update on the post-typhoon recovery efforts in the Philippines.
President-elect John Cottle presided over today's meeting, covering for lucky LaDonna in Hawaii.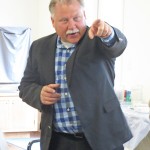 Jennifer Bosma
shared this thought:  "When you feel like quitting, remember why you started in the first place."
In addition to Sheriff Tom Allman, Eric Miller from the Fort Bragg Rotary Club was in the house.  Also visiting was Larry Tunzi, our speaker for the day (more on that later!).
Happy Dollars — and lots of 'em!
Donna Schuler – for creating a Facebook page for our club, and for her daughter's running victories.
Dean Watson – Shirley's outcome from their "resort vacation" at Stanford was a terrific success, and they are happy to be home!
Harold Hauck – for his wife Annie being with us today, and for the Easter Egg Hunt success – thanks to Jerry Karabensh!
Kevin Williams – Westport is on the current cover of Sunset magazine!
Erich Schmidt – for coming back from Vegas with at least $2 happy dollars left in his pocket.
Gary Hopper – just happy, apparently!
Ray Alarcon – for his recent poker winnings…
Kathleen Rzeplinski – there's a Women's Choir concert this weekend, and her daughter Emily got engaged 🙂

Tom Honer – not exactly happy dollars, but clarified that "the other radio station" (not to be given extra publicity here) pulled their recent publicity stunt in front of Mendoza's without his permission….

Tom Allman – shared his appreciation for our club's support during their recent tragedy.  Also, a possible Sheriff's substation may open just east of the Ford House in Mendocino.
Susan Keller – Easter dinner was cooked for her.
John Cottle – for the success of our Easter Egg Hunt event — thanks again to Jerry K!
Dean Watson and Harold Hauck
surprised
Annie Liner
with a Paul Harris Fellow award.  Harold explained that she deserved the honor for all her work with the Mendocino Childrens' Fund, and everything else she has done for the community.  A round of applause confirmed that sentiment — kudos to Annie!  The whole club thanks you for your tireless work.
Jody Stickels
brought back the tradition of trivia questions while introducing our speaker of the day.  Turns out 
"I have no idea"
 is not a correct answer!  Who knew?!
Larry Tunzi, Fire Chief with the Comptche Volunteer Fire Department, brought us up to date on the realities of their training requirements (wow!), cooperation with other first responder agencies, annual budgets and insurance costs, and more.  A few of their upcoming events:
This Saturday, 4/26, from 2:00 – 7:00 p.m., the Comptche Volunteer Fire Department celebrates its 50th Anniversary! The party will be at the Comptche Fire House, and includes live music, food and speakers (Sheriff Allman included).
The Annual Father's Day Chicken Dinner is the 3rd Sunday in June.  This has grown into their major yearly fundraiser, serving over 1500 people.  Go for the pies, doctor's orders (per Dr. Cottle)!
Kelley House Museum just published a book about the Comptche VFD, check it out!
Board meeting: Monday, May 5, 10:00 a.m. at the Mendocino Hotel.  Current and future Board members are encouraged to attend.  There may be a special treat for Cinco de Mayo!
Bonnie Kintner and John Cottle will co-chair the 4th of July fundraiser, and Pam, Susan and Roger will help with planning.  Others are more than welcome to join them!
Rotary T-Shirts: if you want to order a short-sleeved ($20) or long-sleeved shirt ($25), let LaDonna know via email.  The shirts are blue, with our Rotary Park design on the front, and "Rotarian At Work" on the back.
Sean Leland and Donna Schuler won our raffle prizes this week.  Congrats!
Thanks to Harvest Market for our fabulous Indian lunch today.