Next Week: Club President John Cottle will give us the State of the Club address.
President John Cottle opened the meeting, and shared this Thought for the Day:
"Unless someone like you cares a whole awful lot, nothing is going to get better. It's not." — Dr. Seuss
Our guests today were:
– Bruce Philp
– Bill McGuinness (interim pastor at Mendocino Presbyterian Church)
– Judy Martin (visiting from the Fort Bragg Rotary Club)
– Don and Jane Bettencourt
– Father Louis Nichols (of St. Anthony's Catholic Church — also our meeting hall!)
– Marietta Coyle
Both Jennifer  and Bruce were 'fined' for their birthdays coming up. Happy birthday to you two!
Happy Dollars!
– Jennifer: claims she is "not a golfer" yet is happy she sank a put for an eagle!
– Joe: happy that he got a phone call from his granddaughter who is recovering from her serious injuries.
– Harold: happy to celebrate the 20th anniversary of his first date with his lovely wife Annie. Awwwww….
– Donna: happy to show us our new updated signs for the highway, with our correct Rotary meeting location.
– Liliana: happy that her grandson is coming for his first solo visit!
– John C: happy that Liliana will serve as the International Committee Chair. A full Board!
– Lindsay: Mendocino Art Center's Crayon Box project will color the town with yarn and felt. Yay art!
– Sean: happy that his daughter won Student of the Year award at the high school.  Congrats!!
Sunshine Report:
John C. reports that John Turnbull, a recent speaker at our meeting, is having sciatica problems. Keep him in your healing thoughts!
Announcements:
Bonnie shared the great progress of the 4th of July fundraising committee.  There will be food at the firehouse; games, a photo booth and petting zoo at Rotary Park; and a float in the parade.  Contact Bonnie, Jerry K, or John C if you wish to help out with any of those three locations, respectively.
The Mendocino Rotary Foundation announced that the Rotary Park fundraising is coming along marvelously.  As of 2 days ago, there remained $22K to raise for closing costs; as of yesterday that decreased to $17K to go; and as of the end of today's meeting, we have only $9500 to go!  How did that happen??  Pretty awesome, Rotarians…  A beautiful signed original watercolor of Rotary Park by Suzi Long is yours for a donation of $5000…  We'd love to have the closing costs covered by June 27, in time for LaDonna's debunking — an excellent tribute to LaDonna's leadership!
The Humane Society used Rotary Park last Saturday, and 6 animals were adopted!  Now that is a heart-warming use of the park.
John C announced that on June 12 there will be an Emergency Planning training for nonprofits at the Ukiah Valley Conference Center.  It is likely that John I. will go, if not perhaps Dean will attend.  All are welcome!
The Albion Little River Fire Dept is having its BBQ on July 12 from noon to 5:00pm — volunteers are needed on two shifts.  Free BBQ tickets for volunteers! Bonnie and John C (and others?) may be able to fill the spots.
The Mendocino Music Festival needs volunteers to staff a booth at its grand finale event.  Harold and Donna and Lindsay raised their hands — and will have to duke it out for the honors.  OK, not really.
John C announced that sign-ups for our club's committees will take place next week.  Everyone should sign up for one committee…
New Member Induction
Dean introduced and welcomed our newest club members, Father Lou Nichols and Marietta Coyle, sponsored by John Innes. Father Lou and Marietta received their new member packets and Rotary pins, and we are honored to have them as new members!  Welcome!
Dean also introduced an official transfer to our club, Susan Keller. She has migrated to us from the Fort Bragg Rotary Club.  We're excited to have you join us officially, Susan!
Rotary Moment – a new addition to our weekly meeting
Dean shared a moving 3-minute video from the Rotary Foundation, called "What ever happened to polio?"  It highlighted the history of polio, commemorated in a museum in Georgia, and how close we've come to eliminating polio from the planet.  Also, Dean talked about the Every Rotarian, Every Year campaign to encourage donations to the Rotary Foundation.  He will be sending out an email to all members with their donation status. Our goal for this year was $125 per member.
Bruce talked about the pending update to our Club's membership directory, and also reminded everyone of our listserve email address: mendocinorotary@lists.mcn.org.  Using this email address you can reach all members at once.
Our Program
Don Bettencourt was introduced as our speaker for the day.  He is a Fort Bragg native, and moved back to the coast after retiring a colorful and interesting engineering career.  While volunteering at the Botanical Gardens, he was asked to repair the mobile scooters they have for their patrons.  For the last many years, Don's "hobby" has turned into a community service that has benefited dozens of residents with mobility challenges.  Don fixes up motorized scooters and wheelchairs, and delivers them to people in need.  Repairs include motors, brakes, batteries and tires, and more!  Mendocino Rotary has supported him with a $300 donation for parts.  A worthy investment. Don shared many photos of his happy customers.  Thank you, Don!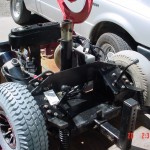 Raffle Winners: Joe Sparks and Bonnie Kintner, neither of whom drew the joker… the pot continues to grow, and is over $100 already.
See you next week!