Prez Jody opened today's meeting with the Pledge of Allegiance. We had a beautiful holiday meal of prime rib and champagne. All the usual parts of the meeting took place in a random order… read on.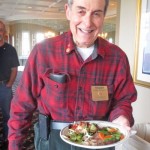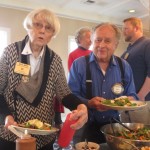 Guest: Patrick Pekin, who's running for a seat for Superior Court Judge of Mendocino County.
Guest Program:

Patrick Pekin is running for Judge Nelson's seat after Judge Nelson retires. The election will be in June 2016. Patrick is originally from the Monterey-Salinas area. He graduated from UC Hastings law school, and has been practicing law since 2003. He worked in criminal law, specifically within the prison system. He moved here with his wife in 2008, and they bought a house in Hills Ranch where they are raising 3 kids. He volunteers with the Mendocino Volunteer Fire Dept.
Elections for judge are non-partisan elections, as judges cannot have a partisan leaning. He practices criminal law, and has done some family, insurance and construction litigation in the past. His office is in Fort Bragg. He prefers Mendocino County law to Salinas County, as it's much "gentler" here. This is a county-wide election, and he must campaign throughout the county.
Candidate Pekin fielded several questions from the club. He emphasized that his job would be to apply the law as written.
Today's Program:

Finemaster Jody asked many questions about Christmas. We learned that:
– Frosty the Snowman was brought back to life by Santa Claus.
– The Grinch's biological shortcoming that made him so mean was that his heart was two sizes too small.
– Scrooge's first name is Ebeneezer.
– The biggest selling Christmas single of all time is Elvis's White Christmas.
– In the song, I was at the top of the stairs when I saw Mommy Kissing Santa Claus.
– The name of Rudolph's dogsled riding friend was Yukon Cornelius.
– "God Bless us, every one" was uttered by Tiny Tim.
– In the Night Before Christmas, I sprang from my bed to do what? To see what was the matter.
– The 3 reindeer with names beginning with D are Dasher, Donner and Dancer.
– In the song Grandma Got Run Over By a Reindeer, Grandma went to get what? Her medication.
– The first gift my true love sent on the sixth day of Christmas, was six geese a-laying.
– The Grinch was green.
– My true love gave me 11 pipers piping.
– The Grinch used a dog as a substitute for a reindeer. The dog's name was Max.
– A boy's experience of two men breaking into his house at Christmas was Home Alone.
– Clarence is an angel spirit in It's A Wonderful Life.

– St. Nick's nose is like a cherry.
– Frosty's last words were "I'll be back again someday."
– Charlie Brown's complaint about Christmas is that it's too commercialized.
– Counting Rudolph, there are 9 reindeer.
– A Santa Claus Miracle happened on 34th Street.
– Rudolph never got to join in reindeer games.
– There arose such a clatter on the roof.
– Santa Claus weighs 280 pounds. No, that one's made up.
– Frosty's nose was made of coal.
– In It's A Wonderful Life, two characters are Bert and Ernie.
– The holiday film It's A Wonderful Life appears on TV more than 300 days a year.
– The little drummer boy gave what to the Christ child? A drum solo.
– A snack of cookies and milk is often left out for Santa.
– Alvin wants a hula hoop for Christmas
– The Night Before Christmas was written by Clement Moore.
– Mommy was underneath the mistletoe kissing Santa Claus.
Today's Raffle Winners: Liliana and John P.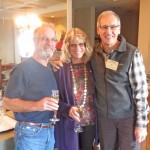 Recognitions:
– Cornelia's b-day is 11/10, husband is 11/7. Anniversary is 12/31.
– Erich's 38th anniversary in the club.
– Wilma's 14th club anniversary.
– Dean's 10th club anniversary.
– Brandt's 39th wedding anniversary is coming up.
Happy Dollars:

– John C. is happy we have a Christmas tree, thanks to Tom Honer, Travis Swithenbank and Matt O'Halloran who staked it. And John P for the lights on it.
– Liliana had a great Thanksgiving in LA with family, and is going back on the 18th for Christmas.
Announcements:
Matt announced that we would like to plant a tree in Rotary Park to grow into our permanent Christmas tree. He needs suggestions for which species to plant.
Today is our last regular Club meeting for the year.
There is a Board meeting next Monday, 12/14/15, at noon at the Mendocino Hotel. All are welcome, please bring $20 for lunch.
Tree decorating will take place tonight at 4pm, John P. will bring brandy to share! Bring an ornament!