Next week:  We are DARK for Thanksgiving. Our next regular meeting will be Dec. 4, featuring Walt McKeown on comets.
Prez John Cottle started us off with the Pledge of Allegiance.
Thought for the Day: from H. Jackson Brown — "Don't say you don't have enough time. You were given the exact same number of hours per day as Albert Eistein, Mother Teresa, Helen Keller (and many other remarkable people were listed)."
Our guest, Curtis Tyler, was introduced and will be our speaker for the day.
Happy Dollars:
Susan K: just came back from wild week driving a Rambler from Salinas to Las Vegas… it was a happy trip!
John C : happy to report that his in-laws here to celebrate the holidays!
Matt: happy about Rotary Park, and that this project is moving forward.
Dean: happy that he had a successful — and accident free! — bike ride to Elk (Queenie's for lunch) and back!
Harold: his 7th grade granddaughter made the honor society, and has a trip to UCD coming up.
Gary: no reason, he's just happy!
Cornelia: same!
Clayton: Brandt gave him a ride to today's meeting, and let him go back inside for his pin — no pin-check fine for the Judge!
Heather: happy that her in-laws are visiting for several days; and happy for happy readers of The View.
Curtis: happy to be indoors talking to us, rather than outside in the rain. 🙂
Sunshine Report:
Wilma is having surgery, so we should wait a couple of days to visit. Cards, flowers are welcome!  Watch for periodic updates from Donna, who will visit with her just about every day.  We're all thinking of you, Wilma!!
Announcements:
John C reminded us about our agreement to assess fines for failure to RSVP for missing meetings. We have not been collecting fines… we will need to start enforcing the policy, unless we can come up with a better solution to avoid wasting food or having (gasp!) too little of it. Remember that 24 hours notice is required to be sent to MendocinoRotary@gmail.com by noon on Wednesday, if you are unable to attend the meeting, or if you'll bring a guest.
Jody passed around sign-up sheet for speakers for Jan-Jun 2015.  Please claim a date (or three!) even if you don't have a speaker in mind yet.
Our Adopt-a-Highway project will be subject of our regular meeting's program on Dec. 11.
We will be DARK next week for Thanksgiving!  Our next regular meeting is set for Dec. 4, when Doug McKeown will be with us to talk about comets.
Heather (finally!) passed out the Collective Wisdom document regarding Career Transitions, which includes lessons learned and advice from our very own club members, collected during the 8/14/14 club meeting.  Please let Heather know if you're interested in working with her and Bruce to expand on our club's insights — we'd love to develop this as a club project and provide the results to high school students and others!
John C: has additional copies of budget available — let him know if you need a copy.
We had continued discussion for having a Holiday tree in Rotary Park. Travis has volunteered to get the tree. We'll need volunteers to decorate it, and to pass out flyers, etc. The event will be on Second Saturday, Dec. 13. The tree will go in the ground prior to that date, and we will have a tree decorating party on Saturday, Dec. 13, 10:00 a.m. at Rotary Park!  Please plan to be there!
All contributions to our Mendocino Rotary Foundation, need to be sent to Mendocino Rotary, PO Box 102, Mendocino, CA 95460.
Today's Program:
Jody introduced our speaker, Curtis Tyler from the logging industry, and Jody's finemaster questions were supposedly on the subject of logging.  Only one of the quiz questions was answered correctly, but we learned the following terminology:
BF: board feet
Ax helve: ax handle
Bagnio: where they put the women of ill-repute
Cackleberry: egg
Estimator: the person who counts how many logs they'll get out of a tree
"All hands and the cook:" everyone needed to respond to an emergency
End gate: cheese
Curtis is graduate of Humboldt State University with a degree in forestry and a minor in archeology. He's a Registered Professional Forester, and works with landowners on timber harvesting plans, permits and sales. The Forest Practice Act and Rules govern his work.
So you want to cut trees on your property? Curtis (or someone like him) will help you develop a timber harvest plan, and determine if any trees are merchantable. They also determine the harvesting method: tractor, cable, or helicopter, and the silviculture method: clear cut, selective, etc. This timber harvest plan is the functional equivalent of an environmental impact report, which is then submitted for review to the State. The State agencies do an on-site review and make suggestions before the plan is approved.
Surveys for northern spotted owl and other avian species are conducted by Curtis (quite a talented hooter, he is), as well as botany surveys. It can take 1-2 years to get surveys done and a timber harvest plan approved. Three-acre conversions, emergency exemptions, and fire hazard reductions are other options.
The current market makes Douglas fir too expensive to harvest here — it's cheaper for Canada to harvest and ship it here for construction. The China export market is helping to bring prices up for our timber companies. Redwood wood is our bread and butter in our region: 10″ diameter logs are selling for $600/1000 board feet, and higher for larger diameter trees. Hardwoods have no merchantable value for them right now.
If you're going to harvest timber, you want as long-range a plan as possible. The 7-year timber plans are best. We were shown a GIS timber harvest plan overlaying a Google Earth map near Leggett, including an archeological site.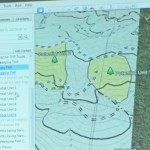 Several questions were asked and answered during our Q&A period.
Raffle drawing: Curtis and John I. had the winning tickets. No one drew the joker! The pot is well over $100, and growing.