The View 5/8/14 – Janice Porter Elected Paul Harris Fellow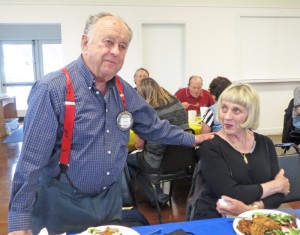 Meg Wilson, guest of Pam Hudson
Michael Garrison, guest of Wilma Tucker and Travis Swithenbank
Janis Porter, guest and best friend of John Porter
Michael Fox and Kira Wojack, our speakers for the day.
Lots of Happy Dollars to report again this week!
Guenter – this is the 190th anniversary of Beethoven's 9th Symphony, his favorite piece of music!  He offered to hum a few bars, but didn't want to end the meeting early…
Pam – happy that Guenter is so happy.
Jennifer – has two kids who performed in a recent choir concert and rocked the house.
Liliana – happy that the Mendocino Coast Garden Tour is this Saturday, May 10  (go to MendocinoArtCenter.org/Garden for more details).
Michael (our guest) – donated happy dollars in place of the gas money that Travis never accepts for taking him out on his fishing boat.  It's all good!
Heather – sad news: husband Reid's 105-year-old grandmother passed away Monday. She was a great lady! The bittersweet part is now Reid's mother, who has been her mom's full-time caretaker for more than 10 years, will now have time to do other things.
Tom – happy that Harvest Market's 29th anniversary was last week!
Several members were fined for not wearing their Rotary pins this week. Gotcha!
Sunshine Report:
Wilma reported that Bonnie was not in attendance today due to illness, so please keep her in your thoughts.
Wilma also updated us on the status of Joe and Ruth Sparks's granddaughter, who suffered an industrial accident.  She is expected to remain in the hospital for 4-5 months in Chicago due to the critical nature of her injuries.  Please say a prayer for her and her family.
Dean's wife Shirley is recuperating marvelously at home following her back surgeries, and she is ready for visitors!  Please call and stop by, and watch Dean sneak out the back door!
Announcements
Next Board meeting will be Monday, May 12, at 12:00 noon at the Mendocino Hotel.  Current and future Board members are encouraged to attend this important budgeting meeting, discuss scholarships, etc.  Bring $10 for lunch.
LaDonna will be visiting the 4-H Club at the middle school on Monday, May 12 at 4:00 p.m. to thank them for their fundraising efforts on our behalf.  Kevin volunteered to accompany LaDonna as her photographer.  Others are welcome to attend as well.
Debunking planning – talk to John C., Tom or Jennifer to help with the planning for debunking LaDonna on June 27!
Paul Harris Fellow Award
Dean Watson and John Porter presented a Paul Harris Fellow award to Janis Porter, in honor of all of her support to Rotary over the years.  She has consistently donated her beautiful art to our art auction, has hung/designed the art shows, and contributed countless hours to help the Mendocino Art Center and other community organizations.  Well deserved, Janis!
Our Program for the Day
Michael Fox, Executive Director for the Mendocino Film Festival, and Kira Wojack, PR/Social Media Strategist provided us with a sneak peek of several films that will be screened at the festival later this month.  What a treat!  Some highlights from their presentation:
The Mendocino Film Festival is May 29 – June 1, 2014, and films will be shown throughout Mendocino County in Mendocino, Fort Bragg, Point Arena, Philo and Willits.  Programs are available just about everywhere – pick one up!
The Mendocino Film Festival is a non-profit arts organization, and depends upon 140 volunteers to successfully make it happen.
They share many of Rotary's values, including community engagement and the purpose to do good in the world.
The Festival includes many special events, including announcing the winner of the youth filmmaking competition, winery open houses, receptions, and presentations by various filmmakers.
More info: www.MendocinoFilmFestival.org.
Raffle winners: Gary Hopper and Tom Honer.  Congrats!