Prez Gary opened the meeting with the Pledge of Allegiance.
Guest: John Pless, Brandt's new partner is from Sedona and before that Georgia, and is joining Fort Bragg's Rotary Club. Also a guest today: Jim's wife Cheryl.
Gary's Thought for the Day: Winning and losing are both very temporary things. Both pass quickly. Gloating over a victory, or sulking over a loss, are a good way to stand still.
Eula reported that the Interactors had a great time last week with us, and made us a cute thank you card. But, her cat came in soaking wet from the storm and laid down on the card, ruining it…
Today's Program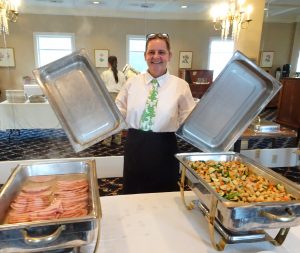 The Gloriana Carollers, who've been singing throughout the month to raise money for their scholarship fund, presented our musical program today.
Gary and Jody played some mean bells along with a rousing rendition of Jingle Bells…
Brandt is celebrating his 40th wedding anniversary
Jerry had his birthday Dec. 10, which he celebrated on a zip line in Costa Rica.
Happy Dollars:
Brandt is happy to have a new associate!
Susan, $1 unhappy dollar and $1 happy dollar…
Jim is happy because his wife joined him here today.
Marie received her annual thank you and Christmas gift, a collection from Rotarians, for which she was happy! Thanks for everything you do for us, Marie!
Jerry announced Santa Claus will be at Rotary Park this Saturday from 1-4pm, please come! See last week's newspaper article about our tree lighting on Dec. 3. There should be another article about this Saturday's Santa Claus event.
Harold announced that Donna Schuler has written a great article for this week's Real Estate magazine highlighting our club's 50th anniversary. Be sure to check it out!
Charter night will be Friday, Jan 27, our club's 50th anniversary.
Semi-annual membership dues are due!
Check out our new website: www.mendocinorotary.org.
Today's Raffle Winner: Sean!
Next meeting: First Thursday of Jan. Our next Board meeting will be on Jan 9.