Next meeting: 9/10/15, program TBA.
Prez Jody opened the meeting with the Pledge of Allegiance.
Today's Guests were introduced: Eula Lenihan; Jason Morris, Superintendent of Mendocino Unified School District; (sorry I missed his name) Mendocino Hotel and Hill House General Manager; Jamie Buckner; Jennie Stansbury; and Sarah Wagner, today's speaker.
Visiting Rotarians: Ruth Sparks, from the Fort Bragg Club.
There was a standing ovation for Kira Meade, organizer of our successful Golf Tournament last weekend. We had 17 teams, lots of great food and prizes, and lots of volunteers. Great job!
Happy Dollars:
– Jody's happy to be on vacation from work this week!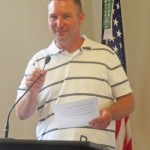 – Pete's happy for the great job Kira did with the golf tournament.
– Kira is glad the tourney is over, and she's going to Reno and Tahoe this weekend.
– Jeffry is happy to have gone to Fort Bragg Rotary yesterday, where he promoted our International Project. He also gave  compliments to Kira on the golf tourney.
– Ruth has two happy dollars: one for Jeffry being a guest yesterday at the Fort Bragg meeting, and one for the Labor Day Saturday annual book sale at Fort Bragg's library. Preview Friday 6-8 p.m.
– Donna is happy school started this week in Mendocino, and is also happy because her aunt turns 91 in New York next week and she'll be there to help celebrate!
– John P. is happy to report he had a tune up on his hearing aids!!
– Matt had a great Mt Shasta trip, and a good VRBO experience.
– Tom's legal case that went all the way to Supreme Court is over!! Congrats!!
Announcements:
Kira thanked the club for its participation in the golf tournament, and is happy we had so many teams!
Travis announced that Winesong needs volunteers on Saturday, Sept. 12, to help clear vendors from the tasting areas from 1:30 – 5:30 p.m. He has forms for volunteers — up to 12 people!
Jeffry says that the International Committee will be meeting after today's meeting.
Jody reminded the club that every member needs to join at least one committee within the next few weeks.
Today's Program:
Donna introduced Sarah Wagner, manager of the Rehabilitation Services Dept. at Mendocino Coast District Hospital. Sarah is a physical therapist, and moved here in 2007. She's been in many operas and Gloriana and MTC productions, she sings, plays piano and ukelele, State Parks Ranger, animal rescue, photographer… She went back to school recently and earned her PhD in Physical Therapy.
Donna's Winemaster question went out to the whole audience: What is the corcoid process and the lesser tuberosity?
She collected $2 from everyone since no one knew the answers. (They are parts of the shoulder.)
Sarah talked to us about the MCDH Rehab Services Department at MCDH. Among the interesting highlights of her presentation:
– A Physical Therapist needs a PhD and 7 years of schooling. They are experts in musculoskeltal function and movement, biomechanics, safety, joint protection and function, pain management and prevention, gait and quality of life.
– An Occupational Therapist needs a Masters Degree or Doctorate, and 6-7 years of schooling. They address activities of daily living, ergonomics, wheelchair/seating assessment, hand therapy.
– A Speech Therapist needs a Master's Degree in speech and language pathology.
MCDH offers inpatient, outpatient and home health therapy services. They treat pre- and post- surgical patients (with a new hip, for example), and help patients recover from illnesses or injuries.
The Wellness Program includes lectures, fitness classes, workshops, support groups — mostly free — and they also run an Employee Wellness program and provide training for MCDH employees.
Physical Therapy offers: Total Joint Replacement preparation class monthly. Fall prevention and management. Balance rehabilitation (they can assess benign vertigo and "cure" it with a simple adjustment many times). Sports medicine: ACL meniscus tears – youth rehab program, with dance rehab and gait analysis, video assisted running assessments. Shoulder rehab, neurological rehab.
Occupational Therapy offers: therapy for anything from the elbow to the fingertips. Home safety and wheelchair assessments. Stroke and cognitive rehab. They have a full kitchen and treatment area — so patients can re-learn how to cook, use the refrigerator, and other activities of daily living.
Speech Therapy offers: Speech and language pathology includes swallow evaluations, cognitive/memory evaluation and communication, language evaluation and treatment, pediatric services that extend what the schools cannot provide (stuttering, and other treatments).
Wellness Festival: This year it will be held on October 17. It's an annual event with free health screenings for hearing, blood sugar, balance, cholesterol, foot pressure, blood pressure, and more. Festivals reach about 400 participants per year. Features hospital departments and other health related vendors on the coast as well.
Fitness classes include yoga (Monday nights) and pilates (Tuesday nights). You can buy a pack of passes to the classes to pay $9 to $10 per class, or drop in for $11 or $12 per class.
Video-assisted running assessments are offered to assess angles of motion, which muscles are over- or under-working, etc.
They have a Wii Fit for balance retraining, strength and endurance training, for pediatrics to geriatrics.
Hospital's mission: To make a positive difference in the health of our community. (The new CEO is working with his team to develop a new mission — stay tuned!)
You'd need a referral from your practitioner to receive services at the MCDH Rehab Services Dept.
Today's Raffle Winner: Kathleen R.