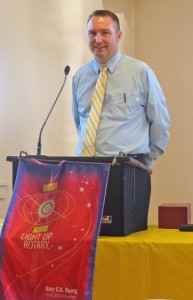 Jody led the meeting in Prez John's absence (vacationing in Puerto Vallarta).
There were no visiting Rotarians or guests of Rotarians and the turnout was very light (less than 20).
Sunshine Report
John Innes delivered a Sunshine Report: Jerry Karabensh's surgery for a compressed nerve in his neck was successful, but the day he was to be discharged, he apparently got a bug of some kind that left him with — among other things — leg problems. Jerry is at UCSF in San Francisco.  Bruce saw Wilma outside her home at Palette Drive (she was upright and waved).  Dean was suffering from side effects of a flu shot and is down for a day or two. Shirley Watson is also ill with bronchitis.
Charter Night
Jody announced he has hired a comedian from the Comedy Club in San Francisco for the evening entertainment. He encouraged everyone to come Friday, Feb. 6 and reminded us the club is dark on the 5th, the day before. Dinner is Tri-Tip, Chicken or Portebella Mushroom for Vegetarians. Cost is $35 / person; please bring check or cash to the door (upstairs at the Hill House).
Casino Night
Bruce passed around a volunteer sheet for sign ups for our big March 7 fundraiser. Tom Honer jumped in to offer help with food, while Pete Rose drew applause for donating $500 toward two table sponsorships (we need 22 @ $250 each). Pete also will take the lead in getting other sponsors. Gary said each Rotarian will be responsible for selling (or buying) two $50 tickets, solicit a raffle prize valued at $25+ and donating a bottle of wine with a value of $20+. Gary will be selling tickets at Mendocino Hardware store. More details at future meetings.
Program – What You Don't Know About Mendocino Rotarians
Everyone kicked in a dollar, then Bruce asked "who did …." type questions to anyone who wanted to answer. If you got the right answer, you got a dollar (everyone left the money in the club coffers).
Here are the questions and answers those who missed the meeting (BTW, no one won the pot which was about $42).
Who hiked the entire 212-mile John Muir Trail and dove on shipwrecks in Alaska – Brandt
Who rode his motorcycle 6,000 miles across Europe after college? – Roger
Who was part of a US Government team sent to Slovakia in 1995 to assist with health care reform. – Bruce
Who raises bees and Japanese maples? – Matt
Who plays drums and guitar and has played in a rock and roll band – Clay.
Who grew up in Europe – Cornelia, Erich, and Guenter
Who has 9 brothers and sisters – Cornelia and Kathleen
Who, as a teenager, ran a automotive garage in Squaw Valley? – Dean
Who lived on a boat and sailed around the world for four years before settling in Mendocino and opening a clothing design business. –Donna
Who flew 100 fighter aircraft combat missions during the Korean War and then served two combat tours in Vietnam? Frank
Who has been married 66 years? Frank and Beverly
Who was a the director of operations for 21 Grocery Outlet Food Stores in Ashville, N,C.? – Gary
Who grew up on a 60-acre farm? – Gary
Which members have PhD's: Joe, Guenter and Wilma /physics (Joe) and x-ray astronomy (Guenter); Education (Wilma).
Who worked at IBM for 34 hours as computer repair technician, instructor, manager and systems engineer? – Harold.
Who was a peace corp volunteer in the dominican republic? – Heather
Who has had 5 court cases before the California Supreme Court, four of which he won as a member of the California Attorney General's staff.
Who was in the 3rd Marine Military Police Battalion in Vietnam (hint: he became the pastor for a small village after the Viet Cong killed their pastor). – Fr Lou
Who went to college to become an engineer, was involved in anti-war protests, then served as a medic in Vietnam near the DMZ? – Prez John (Jeffry also became and engineer and was among the protesters at Berkeley.
Who holds the patent for the first digital stop watch AND produced the first consumer digital stopwatch? – John Innes. One passion: flying radio controlled planes … if you see drones flying around here, you'll know who is at the controls.
Who prepared a land use and transportation model for Lube – jana (phonetic spelling), the largest city in Slovenia, formerly Yugoslavia – Jeffry.
His passion is eating good food and traveling in his RV – Jody
Who worked at Lawrence Livermore Lab where he developed a neutron defraction capability utilizing a nuclear reactor. – Joe Sparks
Who has taken cooking classes in France, Italy England, Thailand, Vietnam and the U.S. – Jerry Karabensh
Who was a blackjack dealer at Harrah's and a preschool teacher? Kathleen
Who was VP of a customer service for a Fortune 100 company? – Kevin
Who served as Events/Conference Producer for the California Institute of the Arts. – Lindsey
Who was the 1st Botanical Gardens Store Manager – Marietta
Who has worked for the same firm – a rarity these days – for 45 years? Pete Rose.
Who worked in heating and air conditioning for 13 years before opening an insurance business on the Coast? Ray.
Who was general manager of a fine dining restaurant who loves to hunt and cook wild game? – Sean
Who owns the Mendocino Sports Club in FB? – Travis
Who has won numerous awards for horse jumping at American Horse Show Association competitions? – Pam Hudson.
Who is a Board member of the local Ladies Golf Club in Little River – Kira
Who is the former owner of Purity Store in FB – Tom Honer
Who was an adjunct professor at UC Fullerton in the school Administration and special education and a Director of principals for a school district – Wilma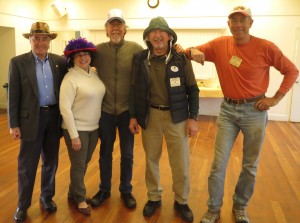 Finally, Jody paid $5 toward Polio Plus for each Rotarian who wore a funny hat to the meeting.