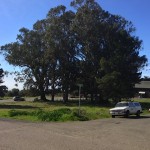 Just about every Fourth of July since Mendocino Village was founded in 1857, thousands of people from up and down the coast gather for the annual parade. On the lawn of the historic Kelley House on Main Street you'll find food, beer, a giant American flag  handing from an 19th Century water town and dozens of people with blankets waiting for the parade.
A half block away is a two acre parcel at the corner of Main and Lansing for which the Mendocino Rotary Club is raising money to preserve as permanent open space and a park for the entire community. The current owners have given our Club approval to move our annual barbecue fundraiser from the firehouse to the two acre, tree-covered space.
We'll be selling hot dogs, hamburgers, drinks, offering folks a change to contribute to Rotary Park and hand out information about Rotary, the world's largest humanitarian organization.
Of course, everyone is invited to come, enjoy the future park the food and hang out to watch the parade.